By Mary Ebeling
Since London's congestion pricing plan went into place, traffic patterns have changed significantly. New maps show bicycle and bus/coach use is up and private car and large truck traffic is down. In the graphic below, blue dots represent decreases in car usage, and red dots represent increases.
The map at below shows a corresponding increase in bicycles, and further maps show changes in bus and truck traffic.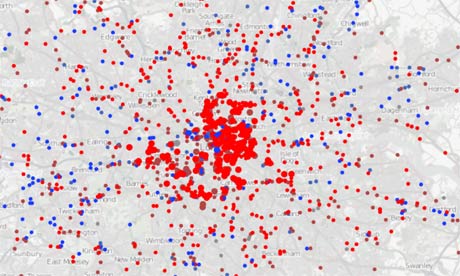 A number of cities and urbanized areas currently use some variant of congestion pricing, including London; Singapore; Orange County, California; and Trondheim, Oslo, and Bergen in Norway. London currently provides one of the best examples of an effective congestion pricing system that could serve as a model for major U.S. cities.
Congestion in London's central business district (CBD) is legendary. Roads in London's CBD have limited capacity and remain largely unmodified from the pre-automobile period. Prior to the implementation of the congestion pricing program, traffic in the CBD increased travel times and harmed economic vitality. After the program started, travel times improved, and as a secondary benefit, CO2 was reduced by 15 percent.
London began assessing a daily charge for vehicles traveling within a specified zone bounded by the Inner Ring Road in 2003. Private auto drivers entering the priced area between 7 a.m. and 6 p.m. pay a fee, currently set at £10 or US$16.22, to drive inside the priced area. The revenue from the charge, estimated to generate £780 million over 10 years, after deducting program costs, is directed into transport improvements, primarily the transit system. The system tracks drivers via cameras that record their license plates. Fees can be paid in advance electronically or may be paid daily via the internet or cell phone. The city offers a 15 percent incentive discount for purchasing weekly, monthly, or annual passes.
The program achieved significant outcomes in just three years. By 2006, the number of cars on Central London roads had fallen substantially, while the number of public buses – exempted from the toll – jumped by 25 percent. 2012 numbers show an impressive reduction in car trips and a simultaneous increase in bus and bike ridership since the program was implemented.
Further analysis of economic trend data demonstrates no significant impacts on the London economy. Indeed, the London economy has been particularly strong over recent years, with recent retail growth at roughly twice the national growth rate.
The success of congestion pricing in places like London suggests opportunities for implementing similar programs in other congested urban areas. The congestion pricing plan debated most recently in New York City was based on London's program. Cars that entered Manhattan's Central Business District (CBD) would have been charged $8 between 6 a.m. and 6 p.m. Revenues collected through the charge would have been dedicated solely to expansions and improvements to the City's regional transit system. The City Council passed the plan, with solid public support. Despite this, in 2008 the New York State Legislature did not approve the plan. At the time, many thought there was no hope for congestion pricing in New York.
However, there is a new congestion pricing proposal on the table, authored by Sam Schwartz, the former traffic commissioner in New York and the architect of the City's original congestion pricing plan. The new plan compromises by not allocating all funds for transit within the congestion area; about a quarter goes toward highway improvements, bus rapid transit from the suburbs, and an expressway for trucks. The plan would raise $40 billion over 30 years and was developed with significant public input. Positive press coverage suggests political support that did not exist in 2008 may be swinging in favor of implementing congestion pricing in NYC.
Mary Ebeling is a Transportation Policy Analyst with SSTI. She can be reached at mebeling@SSTI.us.