By Chris Spahr
A recent article by David Moser entitled Driven into Poverty: Walkable urbanism and the suburbanization of poverty, published on Citytank, proposes that, "Due to the scarcity and cost of urban housing, low-income people are being driven away from walkable urbanism and into auto-dependent sub-urbanism". This phenomenon has been labeled the "suburbanization of poverty" in a report by the Brookings Institution, which found that by 2008, the largest and fastest-growing poor population in the country was located in the suburbs.
Comparing the Walkscore values and median monthly rent for eight neighborhoods in center city Seattle with five cities in the metropolitan area, Moser finds that because of the desirability of walkable neighborhoods, affordable housing is becoming harder to find in the city center. This has driven low-income households into more auto-dependent areas. This is a major problem when one considers the cost of auto-dependent transportation and the burden this imposes on the suburban poor.
Center for Neighborhood Technology president Scott Bernstein agrees with Moser's premise, stating that Seattle has seen a huge influx of people in their 20s. In a recent interview, Bernstein pointed out that major demand for rental housing in Seattle comes from highly educated people attracted to internet and technology companies. This demographic tends to prefer renting a small apartment in a walkable neighborhood near the city center rather than buying a house in the suburbs and owning a car.  Additionally, there is less demand for suburban housing for an aging generation that no longer finds economic security in the single-family home in the suburbs. This creates a huge demand on rental housing in the city.
Bernstein points to the Housing and Transportation (H+T®) Affordability Index, a tool that shows how housing and transportation interact to determine affordability of neighborhoods. Housing is considered affordable if rent or mortgage payments are less than 30% of a household budget. Generally families do not consider transportation costs when calculating housing affordability.  Through the H+T Affordability Index, CNT attempts to present a view of affordability that includes both housing and transportation.
The following maps spatially demonstrate affordability when transportation costs are added to the equation. The map on the left shows affordable neighborhoods (shaded in yellow) in the Seattle Metropolitan Area when only housing is considered.  The map on the right shows where the affordable neighborhoods are when transportation costs are added to the equation. Clearly, the number of affordable neighborhoods is sparse in Seattle when both housing and transportation costs are taken into account.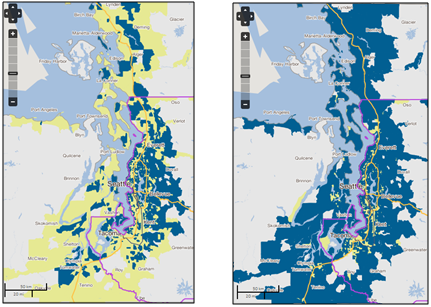 What is the solution? Bernstein thinks that using policy strategies to increase the amount of rental housing in the center city could be effective.  One strategy involves the Federal Housing Administration's removal of barriers to financing low-rise, high density, mixed-use housing.  Recently, the FHA revised rules that cap the commercial space in mixed-use condos, increasing allowable commercial space from 25 percent to 35 percent, with possible exemptions for up to 50 percent commercial. If applied to rental housing, policies such as these could help increase the supply of affordable housing by building density around walkable urbanism. And high density, affordable housing in walkable and transit-oriented neighborhoods is what is needed to create truly diverse, vibrant communities in cities such as Seattle.
Chris Spahr is a Graduate Assistant with SSTI.