By Chris Spahr
In 1997, the Swedish parliament wrote into law a "Vision Zero" plan with the goal of completely eliminating road fatalities and injuries. And in 2013, only 264 people died in road crashes in Sweden. This amounted to only three of every 100,000 Swedes who die in car crashes every year compared to 5.5 per 100,000 across the European Union and 11.4 per 100,000 in the United States. Sweden's fatal crash rate is a record low, which is impressive since the number of cars in circulation and the number of miles driven have both doubled since 1970.
Traditionally, transportation systems have been designed for maximum capacity and it is the driver's fault if something goes wrong. Applying the understanding that drivers are imperfect, "Vision Zero" focuses on traffic systems and places more responsibility for safety on system design, management, and leadership than on the driver. With this in mind, Sweden has used planning measures to address safety issues, implementing strategies including low urban speed limits, pedestrian zones, and barriers that separate cars from bikes and oncoming traffic.  In Sweden, 12,600 safer crossings that incorporate pedestrian bridges, zebra-stripes flanked by flashing lights, and protected speed bumps are estimated to have cut in half the number of pedestrian deaths over the past five years. New technology that warns drivers against drunk driving, warning alerts for speeding, and even driverless cars may help Sweden reach its "Zero" goal.
But would this idea work in a country like the United States, which has also experienced a trend of decreasing road fatalities although not to the extent of other developed countries around the world?
Some cities are certainly trying.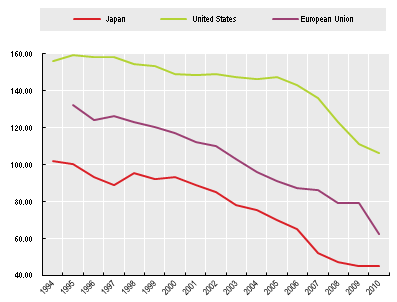 The Chicago Department of Transportation Action Agenda, entitled "Chicago Forward," cites eliminating all pedestrian, bicycle, and overall traffic crash fatalities within 10 years as one of its performance measures. This plan, published in May 2012, also calls for a 50 percent reduction of roadway injuries to pedestrians, bicyclists, and motorists in five years.  The city's approach to reducing crashes includes using data to assess the root causes of transportation safety hazards, designing streets to reduce travel speeds and ensure safety for all users including bicyclists and pedestrians, better enforcement, and education.
In February, Mayor Bill de Blasio announced his goal of eliminating traffic deaths in New York City. De Blasio's plan, entitled "Vision Zero," is modeled after the Swedish plan with the same name and emphasizes good use of data, decreased speed limits, red light cameras, increased policing, and engineering improvements to intersections and corridors.  The plan also includes implementing technology in taxis that could limit vehicle speed.
Incorporating innovative design standards that embrace all road users seems to be a common theme in traffic crash reduction strategies. While the U.S. seems to have fallen behind in these efforts, cities like Chicago and New York can lead the way in continuing the downward trend in road fatalities. As Mayor de Blasio says, "Our lives are literally in each other's hands."
Chris Spahr is a Graduate Assistant with SSTI.