By Chris McCahill
Last year, after nearly a decade of declining automobile use, several key agencies revised their forecasts of future travel demand. The DOTs in Colorado and Washington produced new long-range VMT forecasts, recognizing new emerging trends, and FHWA produced lower forecasts in two separate reports.
FHWA's annual Conditions & Performance ("C&P") report to Congress has grossly overestimated future growth in vehicle travel demand since as early as 1999, according to a prior analysis by SSTI. However, in its 2013 report released last February, FHWA included a low-end scenario in which the annual growth rate was reduced from 1.85 to 1.36 percent. Soon after, the agency released a separate report containing even lower annual growth rates of 1.04 percent through 2032 and 0.75 percent through 2042. That report, released last May, was uncovered recently by U.S. PIRG.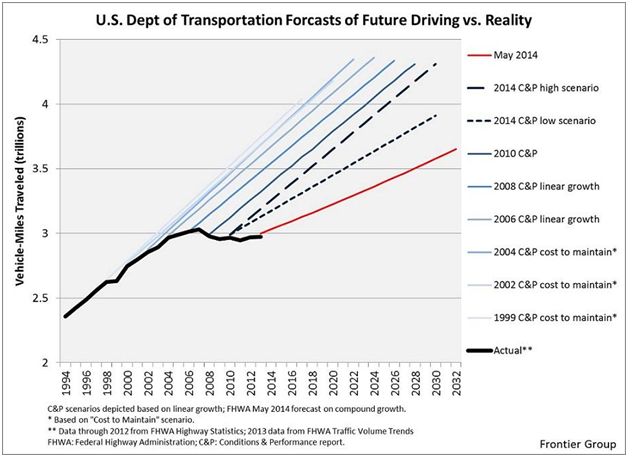 Ross Crichton, who works in FHWA's Office of Transportation Policy Studies, says this is the agency's first internal effort to forecast nationwide travel demand (C&P forecasts are based largely on estimates from each individual state). His team is aware of the report but they indicate it is too early to say with certainty how it might influence the next C&P report.
The newest forecasts are based on analyses of long-term economic and demographic trends. Over a 30-year period, according to the report, travel by light-duty vehicles is expected to grow slower than the population, marking an overall decrease in individual vehicle travel. The largest growth will be among trucks, which account for approximately 10 percent of total vehicle travel. These estimates assume that population, economic activity, and disposable personal income will grow at a somewhat slower rate than in the past and that fuel prices will gradually decline from their recent peak. Depending on long-term trends, the growth rate may vary by as much as 9 percent, according to the report.
This new report puts FHWA forecasts in line with trends observed over the past 15 to 20 years. It should be noted, however, that there is still a great deal of uncertainty surrounding future VMT growth. In a recent report from the National Cooperative Highway Research Program, for example, models revealed that per capita VMT in major metropolitan areas could grow by as much as six percent or decrease by more than 50 percent over the next 40 years.
Chris McCahill is a Senior Associate at SSTI.