By Chris Spahr
A look at national rates of vehicle miles traveled documented by FHWA travel-volume reports shows that U.S. VMT per capita peaked in 2004.
It is also commonly understood that while VMT and GDP have been closely related during most of the twentieth century, VMT stopped tracking GDP growth around the year 2000. However, up until this point, few studies have analyzed VMT and GDP data at the state level.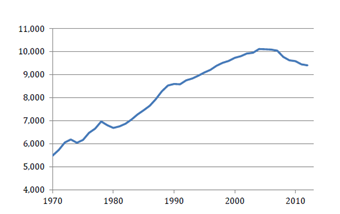 A recent study, presented at the TRB 2015 Annual Meeting by University of Connecticut researchers Timothy Garceau, Carol Atkinson-Palombo, and Norman Garrick, looked at state-level driving and economic patterns from 1980 to 2011, and determined that in many states VMT peaked much earlier than the national trends have shown. The study contends that the downward trend in VMT in the U.S. is more permanent than previously thought. Additionally, the study finds a significant change in the traditional positive correlation between GDP per capita and VMT per capita in the majority of states between the 1980s and the 2000s. In fact, in the four states where per capita VMT peaked earliest, the relationship between economic growth and driving trends turned negative, showing that driving reductions are now associated with increased economic growth in these states. A good example of this is Washington State, which was the earliest state to experience peak driving levels in 1992, at 9,610 VMT per capita, and that also experienced a significant negative relationship between per capita GDP and per capita VMT for 2000-2011.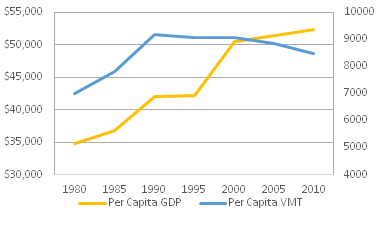 The reasons that people are driving less are still up for debate. Garceau, Atkinson-Palombo, and Garrick attribute some of this to information and communication technologies that have altered patterns of daily life, though they recognize that these advances happened too late to take full responsibility for peak car travel. A 2013 paper by SSTI points to several other reasons that may contribute to VMT trends not reverting to the 20th century trend. Some of these reasons include the leveling off of women in the workforce, older drivers choosing to drive less, choices among younger generations to use alternative modes of transportation, and the increase in popularity of compact, mixed use neighborhoods. Whatever the reason is, Garceau, Atkinson-Polombo, and Garrick offer important insight into the permanence of decreasing trends in driving.
Chris Spahr is a Graduate Assistant with SSTI.