By Mary Ebeling
Roadway signs play an important role in our travel environment, influencing safety for auto, bicycle, and pedestrian modes. Yet in our daily travels these signs tend to fade into the background environment rather than heightening our awareness. A new study, published in the Journal of Consumer Research, asks the question, "Can re-designing pedestrian warning signs improve driver reaction time, reduce crash rates, and improve overall pedestrian safety?" In an era where considerable energy is devoted to reducing crashes through improved vehicle technologies (self-driving cars, sensors to detect pedestrians and bicycles, etc.) it is also critical to look to lower-tech solutions that will support the goal of eliminating pedestrian fatalities.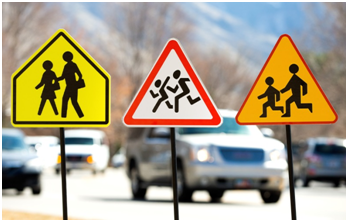 The new study utilized driving simulation, surveys, monitoring reaction time, and tracking eye movements to test the hypothesis that signs depicting greater activity better alert drivers to potential dangers, thereby reducing the time it takes for drivers to react and shortening stopping distances.  The researchers found a significant difference between the reaction times of drivers viewing warning signs depicting a low-speed activity, such as walking, versus similar signs showing people appearing to run. The results clearly show that active pedestrian signage improves driver reaction time and has the potential to reduce crashes and save lives.
Everyone is a pedestrian at some point in their day. The National Highway Traffic Safety Administration recorded 4,432 pedestrian fatalities in 2011 that resulted from automobile collisions. As more states and cities adopt Vision Zero goals, which include reducing pedestrian fatalities, the effectiveness of warning signs that alert car drivers to the likely presence of pedestrians could hold promise for reaching these goals. However none of the designs researched are currently in the Manual of Uniform Traffic Control Devices, and the process for including them could be a long one.
Mary Ebeling is a Transportation Policy Analyst at SSTI.