By Bill Holloway
When $17 million in funding was set aside for a new interchange on NJ Route 42 in suburban Camden County in 2005, NJDOT's design concepts involved traditional clover leaf and diamond designs to improve automobile level of service and mobility. However, after engaging the community in a dialog about their vision for the future of the area—which focused on increasing development near the interchange and creating a more walkable environment—planners and designers settled on a more context-sensitive solution that would slow traffic, preserve land for development, and set the stage for a grid roadway network.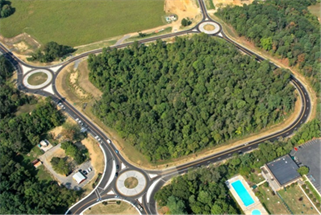 The interchange that was eventually constructed incorporated small-footprint surface ramps leading into a series of roundabouts to safely reduce speeds and distribute traffic along the roadway network. This context-sensitive approach required much less right-of-way and laid the building blocks for a more walkable community. For more information, see the July issue of FHWA's Livable Communities Newsletter or watch the webinar on the topic at contextsensitivesolutions.org.
Bill Holloway is a Transportation Policy Analyst at SSTI.