By Mary Ebeling
On February 7, 2017, San Francisco approved an amendment to its existing Planning Code Section 169 that incorporates an ambitious transportation demand management program for future residential and commercial development. Working to manage its transportation system across modes in the growing city, San Francisco will now require TDM measures for new developments for a variety of land uses. Cities and states across the country are taking note of this effort to manage vehicular demand for the transportation network.
Before approving the amended planning code in February, the planning department did not have specific guidance on the provision of TDM measures, or a monitoring program beyond the one-off plans adopted as conditions of approval for a few projects. The TDM program is the third and final component of San Francisco's Transportation Sustainability Program, which includes "Enhance Transportation to Support Growth (Invest), Modernize Environmental Review (Align), and Encourage Sustainable Travel (Shift)."
TDM requirements in Planning Code Section 169 apply to all new multi-family residential or group housing developments with 10 or more units; new non-residential construction resulting in at least 10,000 occupied square feet; a change of use resulting in 25,000 or more occupied square feet of non-residential use; a change of use from residential to non-residential; a non-residential property that changes use to another non-residential use; or properties applying for an increase in parking spaces. One-hundred percent affordable housing projects and non-accessory parking lots or garages are exempt.
New development projects subject to the requirements must develop a TDM plan that offers on-site infrastructure and programs to prioritize alternatives to driving alone. Depending on the project characteristics and proposed use (e.g., restaurant, office, residential, other), parking availability, and gross floor area, the project is assigned a target number of points it must reach for TDM plan approval. Using the City's TDM tool, developers choose from a TDM menu of options to incentivize this mode shift. The menu includes TDM measures for different land use types and different project characteristics. Measures carry different points, reflecting how likely they are to achieve mode shift.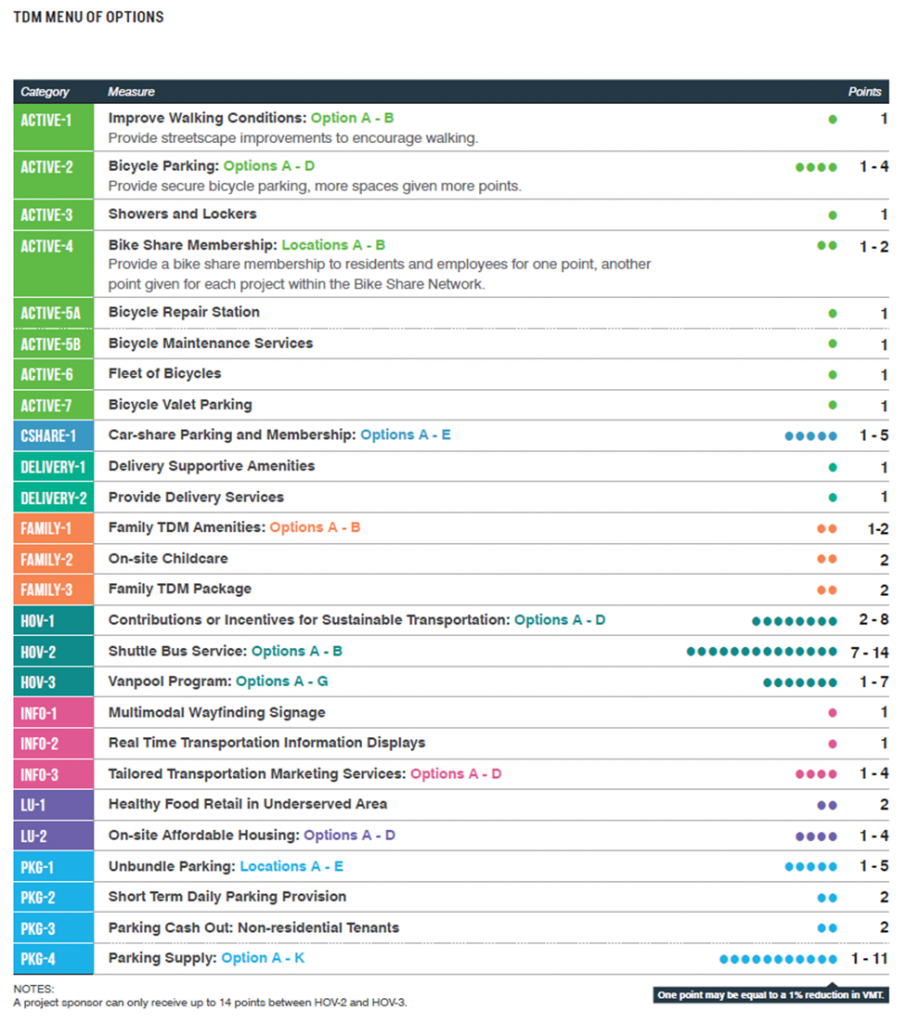 Evaluation and Enforcement: The program requires that the property owner provide an on-site TDM coordinator and allow city staff to do site visits, inspect improvements, conduct surveys, collect data, and interview residents, tenants, employees, or visitors. Building owners also submit regular reports documenting compliance.
The TDM plan that is approved as part of the development review process is recorded with the City and County of San Francisco and is transferred with the sale of the property. Before a certificate of occupancy is issued the Planning Department staff must approve and verify that the physical elements of the property's TDM plan are present and that required programmatic measures are in place.
Outcomes: San Francisco's TDM program is new, so Chapter 169 of the Planning Code has not yet been officially updated online. The program will use data collected during program evaluation activities to determine what is working, what is not, and adjust the TDM menu based on these data.
One year after the TDM program is in place, the Planning Department will report on the outcomes of the program and describe any changes that were made based on these outcomes.
Mary Ebeling is a Transportation Policy Analyst at SSTI.