By Rayla Bellis
Last week, Google and the Environmental Defense Fund published the first in a series of maps with data on pollution levels collected using Google Street View vehicles. The initiative, a partnership between EDF, Google Earth Outreach, and San Francisco-based company Aclima, will make it possible to assess air pollution at a level of detail that was nearly impossible previously.
The first map shows data for Oakland, CA, including levels of harmful pollutants like nitric oxide, nitrogen dioxide, and black carbon released from cars, trucks, and other sources. The neighborhoods mapped are at especially high risk of exposure to these pollutants because of their location downwind of the Port of Oakland, and surrounded by three major freeways. Residential streets are interspersed with warehouses leading to heavy truck traffic.
Viewers of the map can see pollution levels on a detailed scale by zooming in, revealing how much those levels can change within short distances, even from block to block.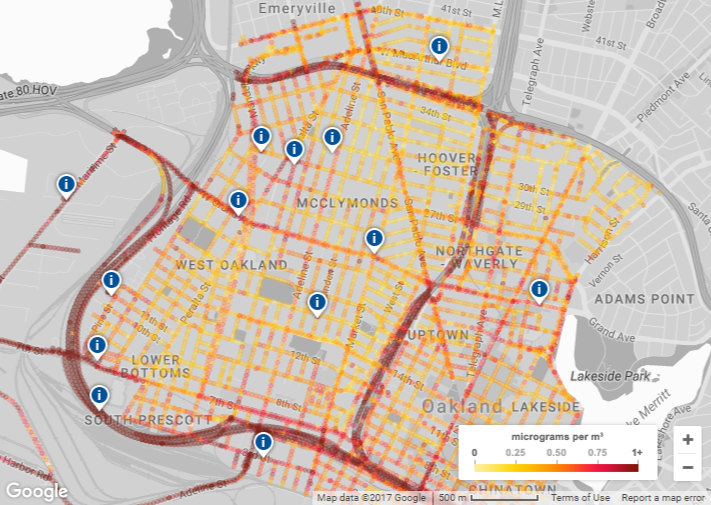 To collect the data, the project team used mobile sensing equipment built by Aclima and mounted on the Google vehicles. This new mobile data collection approach enables the creation of a much larger dataset for levels of pollutants than was previously viable. It also makes it feasible to collect data at street level where people are actually breathing the air, going beyond the capabilities of the conventional stationary air quality monitors that provide most of the information we currently collect on air quality in the U.S. Scientists can already request access to the validated data.
The initiative could provide significant benefits for decision makers and the communities they serve. In addition to the harmful environmental impacts caused by the pollutants studied, high exposure to black carbon particles and other pollutants released from the burning of fuel have been linked to heart attacks, strokes, and some cancers.
The project team hopes the body of data created will help regulators and local and state officials develop a greater understanding of pollution levels on a neighborhood-by-neighborhood basis, making it possible to target investments and other interventions to the populations facing the greatest health risks. "Seeing pollution mapped this way makes us better advocates for cleaner air and smart development choices," notes the project lead at EDF.