By Robbie Webber
As noted in a previous SSTI post, the rise of SUVs and other light trucks as personal vehicles has been identified as a contributing factor to the startling rise in pedestrian fatalities since 2009. Using federal fatality data, an Insurance Institute for Highway Safety study showed that pedestrian fatalities involving SUVs increased by 81 percent between 2009 and 2016. Researchers, auto makers, and regulatory agencies have known for years about this increased risk to pedestrians, but disagree about how to mitigate the dangers.
In an in-depth but very readable article, the Detroit Free Press and USA Today outlined the consequences of increasing popularity of light trucks as personal vehicles and looked at the industry and government responses, both within the U.S. and in Europe. We can't do justice to the authors' research here, so we recommend you read it for yourself. We have highlighted a few key points, however. The National Complete Streets Coalition will also have a webinar with the authors on August 7 at 12:30-1:30 pm Central (1:30 ET, 11:30 am MT, 10:30 am PT).
As noted by researchers as far back as 2003, because SUVs and light trucks have a higher front end, they hit pedestrians higher on the body, in the torso rather than the legs. This higher impact point, combined with the blunt front ends on these vehicles, make impacts much more dangerous than with smaller vehicles. Crashes involving light trucks (of which SUVs are one component) are more likely to result in internal injuries and pedestrians being knocked down instead of being thrown up over the hood of the car. Light trucks are also heavier and more powerful than the average sedan. While the weight of the vehicle is certainly a significant factor in injuries, some researchers have theorized that the increased speeds that are often seen with more powerful vehicles are a larger factor than the weight.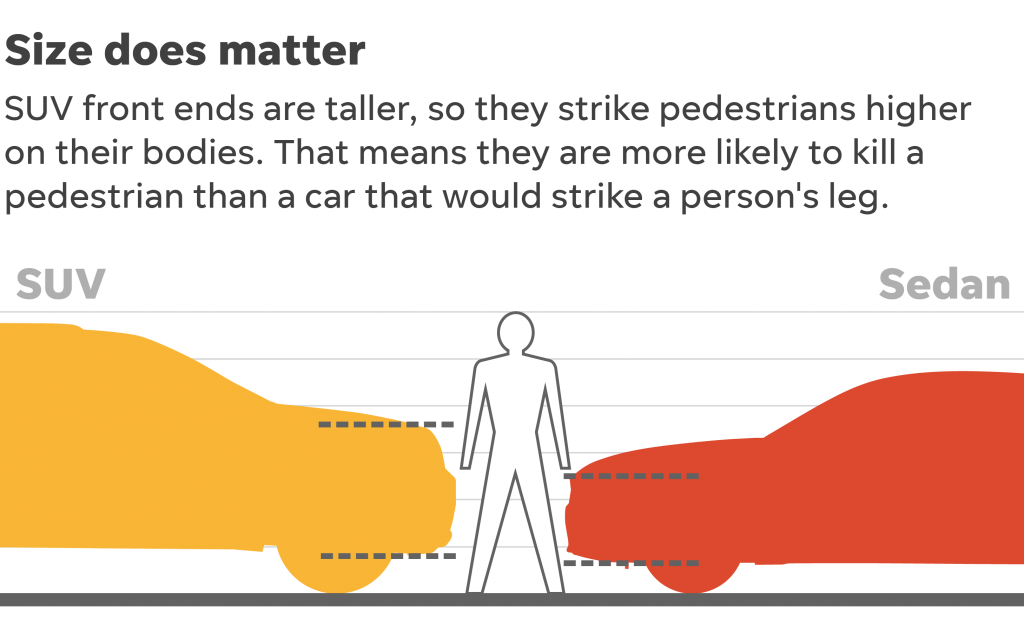 Overall pedestrian fatalities have risen from a low of just over 4,000 in 2009 to almost 6,000 in 2017. As overall traffic fatalities have fallen, in part because of increased safety features to protect vehicle occupants, pedestrian deaths have become a larger portion of the overall total and now represent 16 percent of all road fatalities. There are ways to protect those outside the vehicle as well, but the U.S. has been slow to adopt standards that are already in place in Europe.
A National Highway Traffic Safety Administration report from 2015, based on 12 separate studies of injury data, concluded that pedestrians are two to three times "more likely to suffer a fatality when struck by an SUV or pickup than when struck by a passenger car." Based on that report, NHTSA recommended that pedestrian safety scores be included for vehicles starting in 2018. However, that has not happened, and the Free Press/USA Today authors did not receive responses to questions about the delay.
Auto manufacturers prefer to have voluntary standards instead of mandatory ones. Most auto makers have committed to including low-speed automatic emergency braking (AEB) systems by 2022, but that is voluntary, and the adoption rate varies widely by manufacturer, from close to 100 percent (Tesla and Mercedes Benz) to two percent (Ford). This technology will become an important component of autonomous technology, and requiring AEB now would allow more time to ensure the systems work well in a variety of circumstances. In addition, because fleet turnover can be 10 years or more, advocates are worried about the number of deaths that could result from any delays. Researchers at the U.S. Department of Transportation's Volpe Center estimate that pedestrian crash avoidance and mitigation systems and AEB could avoid 810 pedestrian fatalities per year.
SUVs and other light trucks are already more popular than standard cars in the U.S., in part because drivers like bulkier models that protect occupants. To protect vulnerable users on the road, we will have to make them safer for those outside the vehicle as well as inside.