By Eric Sundquist
One hope for reversing the growing death toll among pedestrians and cyclists lies in technology that senses crashes before they happen and avoids them.
In 2015, NHTSA, with support from the insurance industry, reached an agreement with most automakers to ramp up installation of automated emergency braking (AEB) in new vehicles. About half the vehicles sold from September 2017 to August 2018 had the systems. NHTSA cites research that estimates these systems will avoid 28,000 crashes by 2025.
That's the good news.
The bad news is that AEB systems are still far from perfect. The American Automobile Association this month released findings from tests involving car models from General Motors, Honda, Tesla, and Toyota. In the easiest test—daylight hours, clear conditions, 20 mph vehicle speed—the cars struck a crossing pedestrian dummy most of the time.
The results varied widely among the test cars. The Toyota Camry avoided all the crashes in this scenario, and the Honda Accord avoided three crashes in five tests. The Chevy Malibu and Tesla Model 3 hit the dummy every time with minimal speed reduction.
(The Tesla result seems most surprising, given that company's bullishness on full self-driving in the near term. But the poor performance is consistent with related new evidence that the Tesla automated "Smart Summon" function also doesn't work well.)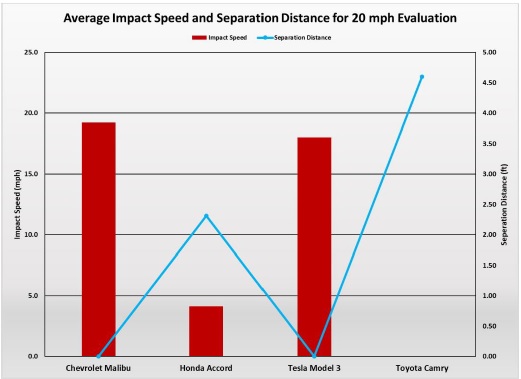 With more difficult conditions, such as low light or when the vehicle was turning, results were even worse.
All of this is not to say that such systems are useless. Even small-percentage gains in safety could avoid hundreds of deaths and thousands of injuries every year. Consumer Reports asserts, "effective pedestrian detection should come standard in every new car."
The eventual gains from AEB, however, risk being swamped by other developments in vehicles, namely their growing size. All of which means that infrastructure and law-enforcement agencies still face an enormous challenge in making the walking and cycling environment safe.
Eric Sundquist is Director of SSTI.