With accelerating "not travel," our assumptions and modeling of travel behavior, which were always far from perfect, have become even less reliable. As a consequence, transportation agencies and their land-use regulating counterparts need to act more nimbly, on shorter time-horizons, and perhaps with less reliance on data.
These are some of the sentiments expressed in SSTI's annual Community of Practice session for DOT CEOs, held via Zoom on Oct. 14. The CEO session was not-for-attribution, and we are respecting that rule in this report. But the concern about new travel patterns and agency nimbleness grew directly out of an open COP session the day before.
In that meeting, Jair Lynch, of the Jair Lynch Real Estate Partners, and Laura Schewel, of StreetLight Data, sparked a discussion on the growth of "not travel" modes telecommuting and retail deliveries—both trends that began before COVID but have now accelerated.
Telecommuting shows up in StreetLight's big-dataset of passively collected vehicular travel, shown in Figs. 1-2 from Schewel's presentation. With telecommuting, we see less morning peak auto travel— and hence less congestion on traditional commuting routes—but more midday VMT and a similar afternoon peak, as home-based non-work trips have grown.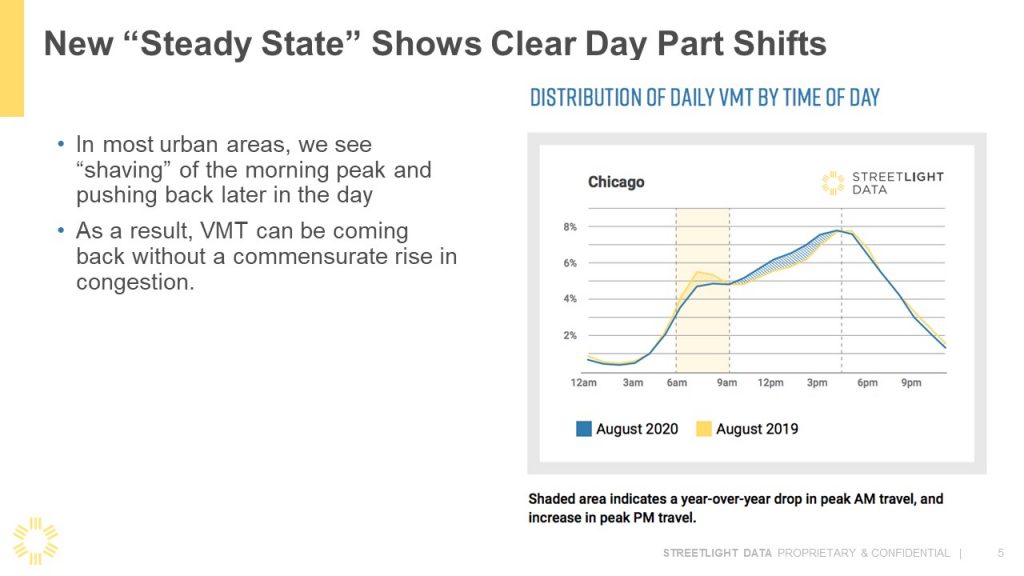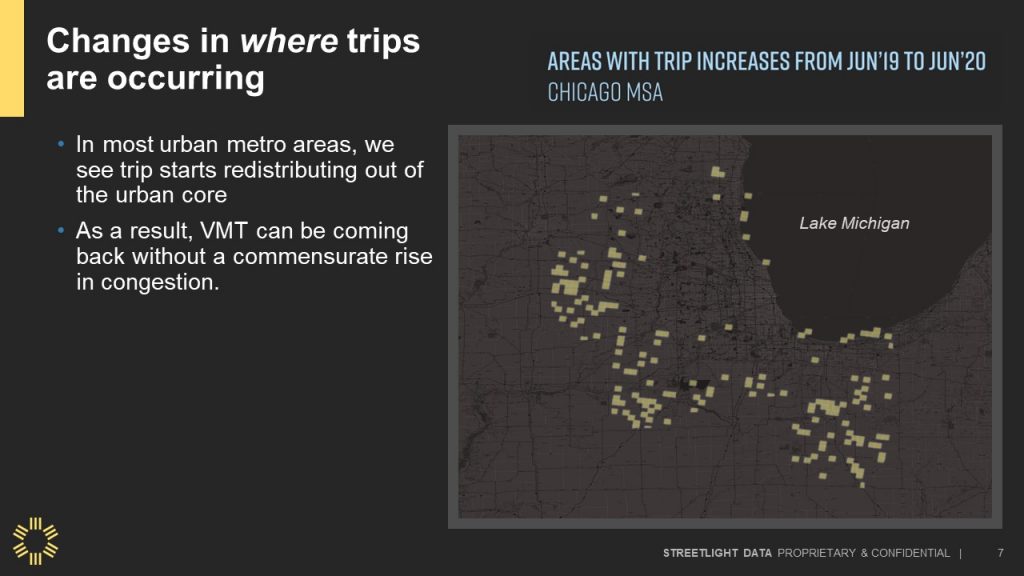 With surveys showing that many workers and employers plan to continue some level of telecommuting even after the pandemic, these new travel behaviors are likely not just temporary; and they suggest a big shift in office-related real estate, just as brick-and-mortar development continues to wither in competition with delivered goods. Lynch suggested that with these major shifts and others, land-use regulation based on 10-year comprehensive plans is no longer useful; markets shift too much in a decade, so plans need more frequent updates.
That was a theme that continued into the CEO conversation the following day. One comment was that old assumptions and models—and even historical data—are of little help in guiding decisions. An alternative might be to use value-based decisions to shape the future, as architects of mid-20th century auto-centric development did. In sync with Lynch, the discussion also turned to the benefits of reacting more nimbly with many small, tactical projects rather than fewer decades-long megaprojects that can be obsolete before they are opened. (Note that there was no attempt to achieve a formal consensus on these, and that not all participants necessarily agreed with these sentiments.)
SSTI's Community of Practice meetings continue in November, with sessions focused on antiracism and equity, and reining in VMT. All transportation agency employees are welcome, but registration is required. Go here for more information and to register. Links to all open session recordings are also available.
Photo Credit: Street Light Data