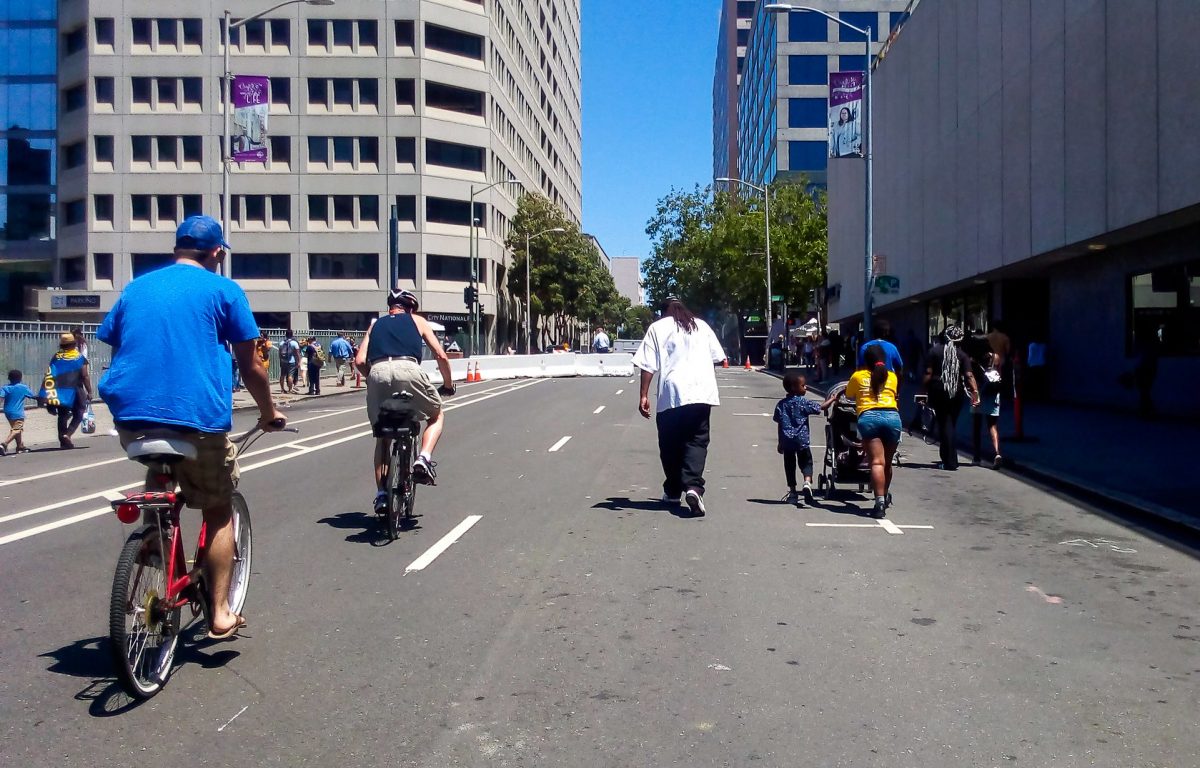 By Michael Brenneis
Early in the pandemic many cities rearranged public space for people who wanted to exercise and recreate while maintaining physical distancing. Oakland, CA, did this with their much publicized Slow Streets program. While those working from home were happy with repurposed streets, others felt more was needed to help vulnerable communities. In response, Oakland added an Essential Places component to the program.
Warren Logan, Policy Director of Mobility and Interagency Relations for the Mayor's Office, has spoken widely about the program, which has gained coverage on We Are Not Divided, the Project for Public Spaces, and Strong Towns.
Because traffic volumes were down, initially, most planners didn't expect opening streets—by blocking car travel or repurposing parking spaces—to elicit much controversy. Responding with urgency, Oakland planners rolled out portions of their bicycle plan ahead of schedule, using more temporary materials such as cones, barricades, signs, and paint, all of which could be deployed quickly.
But these programs were not universally accepted. Some residents of historically underserved neighborhoods felt that these interventions did not represent a good investment in their communities. These communities were providing essential services, sometimes at a low-wage, and being disproportionately affected by the pandemic. Recreation was not their first priority. They needed to be able to get to work safely, and safely access groceries, health care, and other essentials. A detailed review of this disproportionality and some early criticism of the Slow Streets program was offered, at the time, in a blog post by Tom Holub.
Residents argued that barricades, cones, signs, and paint were not enough to deter dangerous drivers who are increasingly emboldened by congestion-free streets. Many viewed traffic violence as a poorly addressed epidemic requiring more timely intervention by government agencies. Some were concerned that enforcement of Slow Streets could bring more police to already over-policed areas.
Oakland's transportation planners listened to the community and reached the understanding that more action was necessary to allow residents safe access to daily essentials. Oakland designed the Essential Places off-shoot of the Slow Streets program to make crossing streets safer near essential services and along the city's high injury network. As of August 4, 2020, there have been no fatalities or severe bicyclist or pedestrian related crashes on any Slow Streets or in any Essential Places, the city reports.
Oakland's response is primarily about safety, but also about sensitivity to the community. Oakland is responding to concerns that the barricades and signs look too utilitarian by seeking grants to help local artists make these interventions better fit with the fabric of the community. Oakland is also providing nearly real-time access to survey results and continues to meet with residents on a weekly basis.