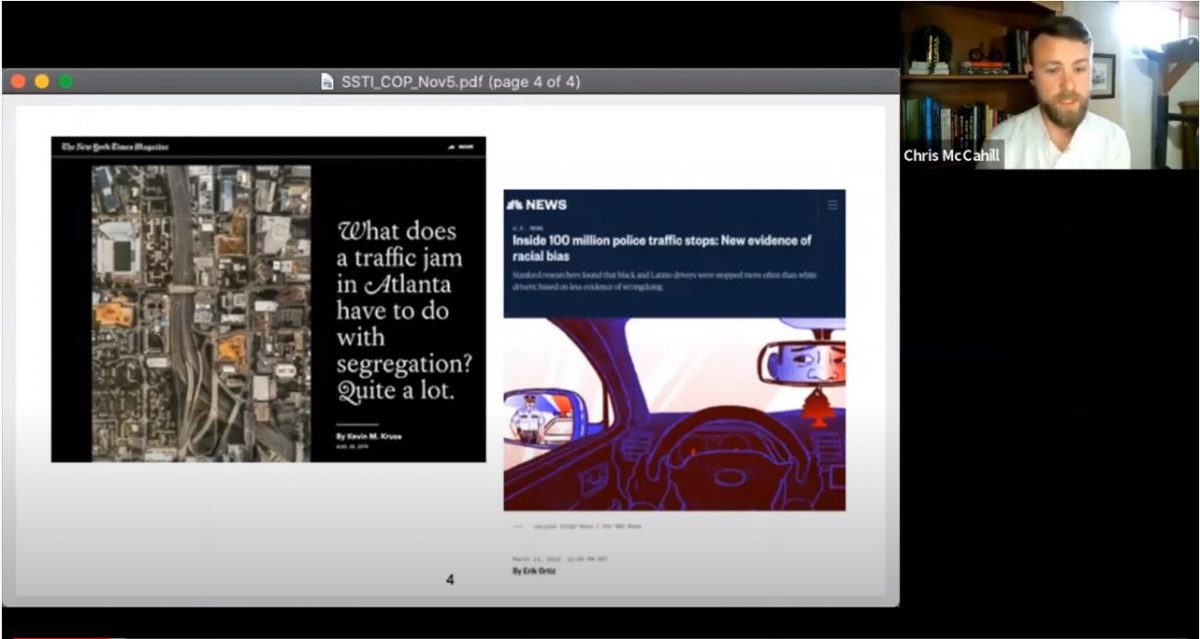 By Chris McCahill
State DOTs are wrestling with a long history that has often marginalized and underserved communities of color. For some agencies, that means rethinking how to approach decision making through an antiracist lens and taking steps to reverse past damage. SSTI held a virtual discussion on the topic on Nov. 5 as part of our annual Community of Practice. The session made clear that the success of these efforts depends on having the right people in the right places, both within agencies and on the ground.
Some DOTs are advancing antiracism by elevating diversity and inclusion officers, along with other civil rights functions, from mid-level administrative offices to positions with more authority over decision making. Earl Key, who heads the Office of Equal Opportunity at Washington State DOT (WSDOT), now answers directly to Roger Millar, the Secretary of Transportation, and coordinates equity work throughout the agency. He is partly responsible for making sure the agency continues living up to commitments made under a recent resolution by the Western Association of State Highway and Transportation Officials (WASHTO) addressing systemic racism.
Key has also led WSDOT's effort to put agency staff in the field to engage directly with stakeholders. "Community engagement just builds capital," he explained, but only when it's done right. "You have to be building relationships with communities throughout the year whether there is a project there or not." To that end, WSDOT has hired full-time staff who spend their time talking with community partners about issues that go well beyond transportation, and it has paid to relocate community engagement positions into underserved areas, including one largely Hispanic community. When those relationships exist, says Key, community members are less likely to question the DOT's intent and more willing to forgive its mistakes.
Keith Benjamin, DOT director in Charleston, S.C., reiterated Key's point about ongoing engagement, adding that agencies need to start by acknowledging past mistakes, even if it is uncomfortable, and then set the tone moving forward. There's a lot of built up distrust, he said, which can get in the way of everything from well-intentioned road projects to simple resurfacing and surveying efforts.
Those conversations also need to happen among agencies. In Charleston, where the state DOT controls most of the major roads and the county controls much of the available funding, Benjamin sees his job largely as "an advocate and a convener." That means constantly working with governmental partners and leveraging local resources to see better outcomes on road projects, including signalized crossings and transit infrastructure.
The discussion touched on other opportunities, like innovative contracting. Benjamin talked about breaking up large, comprehensive contracts into smaller more specialized ones, opening the door for smaller women- and minority-owned businesses. These firms can assist with engagement, he added, because small, local companies are already tapped into the communities they serve, but they struggle to compete with large firms for contracts.
A recording of the session can be found here. Also at that link is registration information for SSTI's final Community of Practice session for the year:  "DOTs' Roles in Reining In  VMT," with Don Andres, legislative director for Rep. Jesús "Chuy" Garcia's office, and Ellen Greenberg, deputy secretary for sustainability at Caltrans. That session, open to all transportation agency leaders and staff, will take place at 11 a.m. ET on Nov. 16.
Photo Credit: SSTI