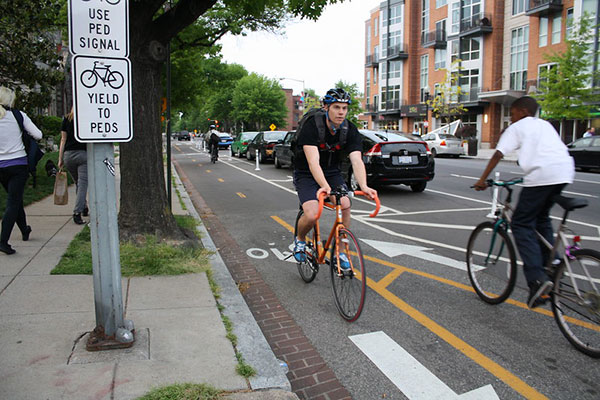 By Rayla Bellis
Several recent articles have highlighted a growing advocacy movement away from police enforcement as a strategy to improve roadway safety in light of the dangers and disproportionate financial burdens those strategies place on Black and Brown people. A number of organizations are also advocating against automated enforcement for the same reasons, though there is less consensus about whether it is harmful or a potentially valuable alternative to police enforcement for addressing other racial disparities from transportation, including higher pedestrian fatality rates.
A number of bicycle advocacy groups have eliminated police enforcement as a priority and shifted their legislative agendas away from strategies like three-foot passing laws. Other groups are looking at legislation to decrease the policing of cyclists themselves—including legalizing practices like the "Idaho Stop" where cyclists can legally yield at stop signs—as more instances of police brutality toward Black and Brown cyclists come to light.
Some organizations, like New York City's Transportation Alternatives, have suggested that automated enforcement could be a useful tool for eliminating bias in police enforcement. Yet they also note that automated enforcement can be implemented in harmful ways. For example, cameras are often placed in Black communities in disproportionate numbers since those communities see more pedestrian crashes due to lack of sidewalks and higher speeds coming off of highways.
The Active Transportation Alliance (ATA) in the Chicago region recently provided a statement against a proposal from Mayor Lori Lightfoot to lower the threshold for automated speeding tickets from ten to six miles per hour over the limit. While reducing the threshold might improve traffic safety, ATA argued the change could negatively impact racial and social equity at a time when Black and Brown Chicagoans are already struggling with the inequitable burdens of the COVID pandemic. ATA has advocated for several changes to the city's speed and red-light camera programs: 1) use revenues to support a comprehensive traffic safety strategy focused on communities with the highest numbers of crashes, 2) implement sliding scale fines and alternatives to payment, and 3) study the racial equity impacts of photo enforcement and make changes based on the results.
Our Streets Minneapolis has gone further, explicitly calling for removing enforcement altogether as a way to make streets safer, noting that many current city transportation policies and plans rely heavily on enforcement, including the Vision Zero Action Plan. Our Streets Minneapolis also acknowledges the disproportionate harm the city's transportation system causes to BIPOC (Black, Indigenous, People of Color) through lack of good walking and biking infrastructure, lack of access to high-quality public transit, and the resulting health disparities. Black and Native Americans are also at the highest risk for being hit by a car in Minneapolis.
These issues and questions are also at the forefront for many DOTs. Participants at SSTI's 2019 Community of Practice meeting discussed the arguments for and against automated enforcement, the equity implications of Vision Zero programs, and how to find solutions, one of which needs to be better and more equitable roadway design.
Photo credit: Elvert Barnes via Flickr, unmodified. License