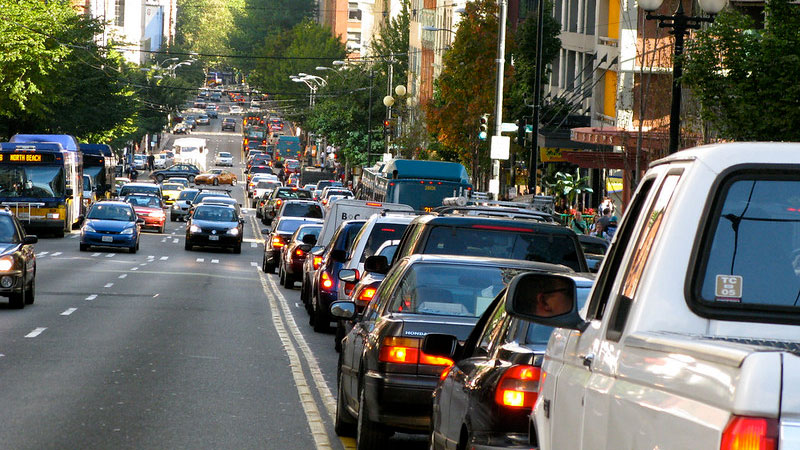 By James Hughes
In a new study, researchers at Polytechnique Montreal and University of Montreal compared road space allocation and true utilization during AM peak periods. They found the widest gap among transit riders and cyclists.
Researchers found transit riders and cyclists have significantly lower surface area allocated to them for exclusive use compared to demand, indicating a shortage of space. Surface area allocated for transit and cycling ranged from 0.5% to 3.2% depending on borough, although those modes generated 14% and 4.3% of passenger kilometer traveled (PKT), respectively. In comparison, 81.6% of street space was dedicated to the use of private vehicles, either parked or moving, while only generating 75.9% of PKT, indicating a surplus that could become reallocated to other modes.
To more equitably allocate road space, study authors recommend solutions such as the conversion of street parking to dedicated transit lanes, protected biking infrastructure integrated with transit, and digital signage to indicate proper mode use. These recommendations not only reflect a move to more equitably allocate street space relative to PKT; additionally, they have the potential to induce demand for non-automobile modes of travel.
To conduct a similar needs-gap analysis, an agency must have access to significant amounts of transportation data such as number of driving and parking lanes, HOV and transit lanes, cycle lanes, sidewalk length and width, and parking restrictions. The study noted that in a majority of boroughs, pedestrians were allocated a significant amount of space in relation to PKT, though more space could have been provided between the roadway and pedestrians to increase feelings of safety.