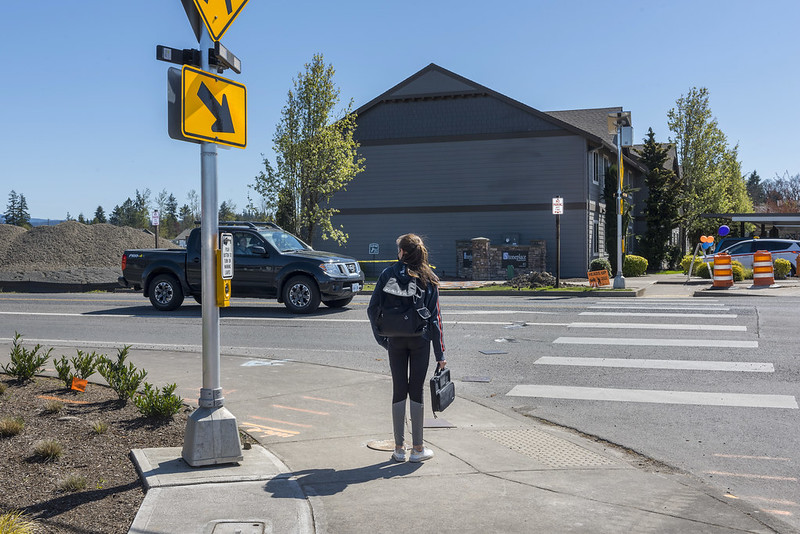 By Michael Brenneis
As the window closes for comments on the eleventh edition of the Federal Highway Administration's Manual on Uniform Traffic Control Devices (MUTCD)—the national standard governing all traffic control devices—strong criticism of the manual is coming from industry professionals and safety advocates alike.
The comments issued by the Institute of Traffic Engineers (ITE) focus on the need for enhanced safety for all users—including pedestrians and cyclists —the need to support innovation and flexibility, and the need for more frequent updates and adaptation to current conditions and best practices.
ITE joins the National Association of City Transportation Officials (NACTO) and others in calling for the removal of speed limit setting guidance from the manual. Both argue that prevailing speed should not be the primary consideration when setting speeds on urban streets.
ITE addresses specific concerns over how the MUTCD handles crosswalk markings and signage for pedestrians, and signals and lanes for bicyclists. In general, ITE's comments lean toward allowing more flexibility in the design of traffic controls that have been shown to increase the safety of vulnerable road users.
NACTO calls for the elimination of the proposed autonomous vehicle (AV) chapter, suggesting instead that AV guidance be included in existing sections after consultation with a diverse group of practitioners. ITE criticizes standards aimed at facilitating AV movement that have the potential to burden state agencies, for example setting the standard for 6-inch-wide longitudinal markings on roads with speed limits of 40 mph or more. ITE calls for the MUTCD to focus more on the safe interaction between AVs and cyclists and pedestrians, and less on AV operation.
NACTO goes beyond ITE in advocating for the elimination of signal and crossing warrants based on high pedestrian volume, or injuries that value driver convenience over pedestrian safety. Such warrants can be especially severe for pedestrians, as Angie Schmidt writes in Bloomberg CityLab:
Before the manual says a new traffic signal and crosswalk is "warranted," it must have almost 100 pedestrians per hour crossing the street. This, keep in mind, is a location that lacks safe crossing infrastructure. Failing that, the manual says engineers can go ahead and install a crosswalk and traffic signal if four pedestrians are struck and injured at the location over a three-year period.
Beyond this, some safety advocates suggest that the lack of flexibility and focus on vulnerable road users in the MUTCD contributes to pedestrian disadvantage and dangerous conditions on U.S. roadways.
NACTO also proposes more flexibility in applying color treatments for transit, bicycling, or walking facilities, such as red transit lanes or green cycling lanes. According to NACTO, such treatments make the biking, walking, and transit riding community more visible, and are not proven to diminish safety.
For this update of the MUTCD, ITE suggests targeted modifications in the areas laid out in their letter, with a more comprehensive overhaul of the manual to follow promptly. NACTO calls for a more inclusive update process to include cities, transit agencies, safety advocates, and health and disability experts.
Photo credit: Oregon DOT via Flickr, unmodified. License