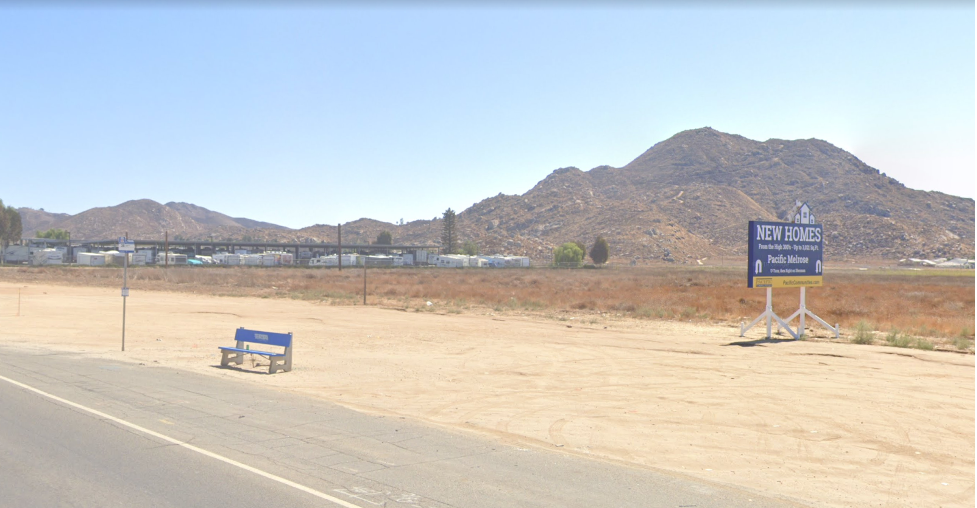 By Aaron Westling
In the United States, the design of our transportation infrastructure to prioritize driving and parking produces a number of negative public health outcomes, including air pollution, deadly crashes, and increased social isolation. A new study highlights another issue: health care services are more difficult to access for those who do not own a vehicle and have limited access to public transportation. 
The research found that more than one in five American adults who do not own a car and have limited access to public transportation forgo healthcare because of transportation barriers—and it's not just the lack of owning a car, but also the lack of access to reliable alternatives. As seen in the figure below, the percentage of adults without cars who missed or skipped a healthcare visit due to transportation issues was twice as high in areas where it is difficult to get around without driving and in areas with poor access to public transportation.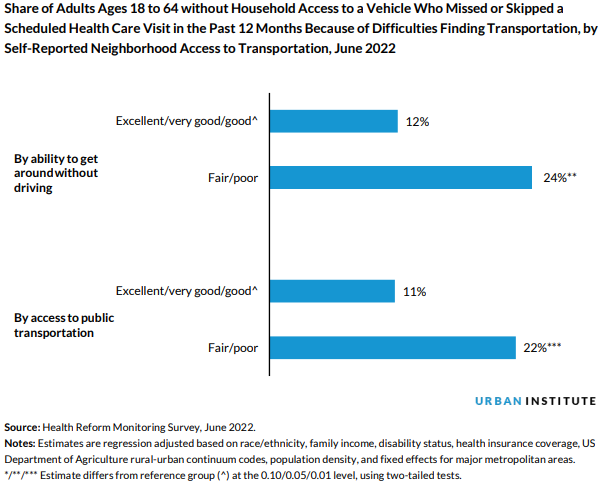 These transportation barriers disproportionately impact communities of color and those with lower incomes. Black and Hispanic adults are around twice as likely to miss needed healthcare because of transportation difficulties, and low-income adults are more than three times as likely to forgo care. Importantly, the study found that adults with access to a car were more likely to get needed treatment and it also indicated that while 91 percent of adults reported having access to a personal vehicle, that number dropped to 81 percent for Black adults and 78 percent for adults with low incomes.  
With the number of people facing transportation barriers increasing, this obstacle to medical care is becoming more acute. Researchers at the University of Michigan have found that nearly a quarter of American adults over the age of 24 experience "transportation insecurity," defined as, "the experience of being unable to move from place to place in a safe or timely manner."  
Those disproportionately impacted by transportation insecurity are, unsurprisingly, the same communities that are more likely to forgo healthcare because of transportation barriers. Thirty-three percent of Black adults and 29 percent of Hispanic adults face at least some amount of transportation insecurity compared to 19 percent of white adults. Additionally, 42 percent of those who do not own a car are transportation insecure compared to only 18 percent of those who do own a car. 
One surprising finding from the study is that urban residents, where public transportation should be accessible and destinations are likely to be closer, are much more likely to face transportation insecurity (39 percent) compared to those living in suburban (22 percent) or rural (13 percent) areas. The researchers suggest that this counterintuitive result is due to the fact that urban residents are more likely to be low-income and less likely to own a car. This suggests that the public transportation service being provided in American cities is not adequate to support those who rely on it, while transit agencies are staring down a fiscal cliff that threatens to reduce service even further.  
Ultimately, these two studies tell a similar story, that our autocentric planning and investment are detrimental to the health of so many in the United States. Creating better access to efficient and affordable mobility options, specifically public transportation, is vital to improving public health outcomes, especially in under-resourced communities.  
Photo Credit: Streetsblog, unmodified.