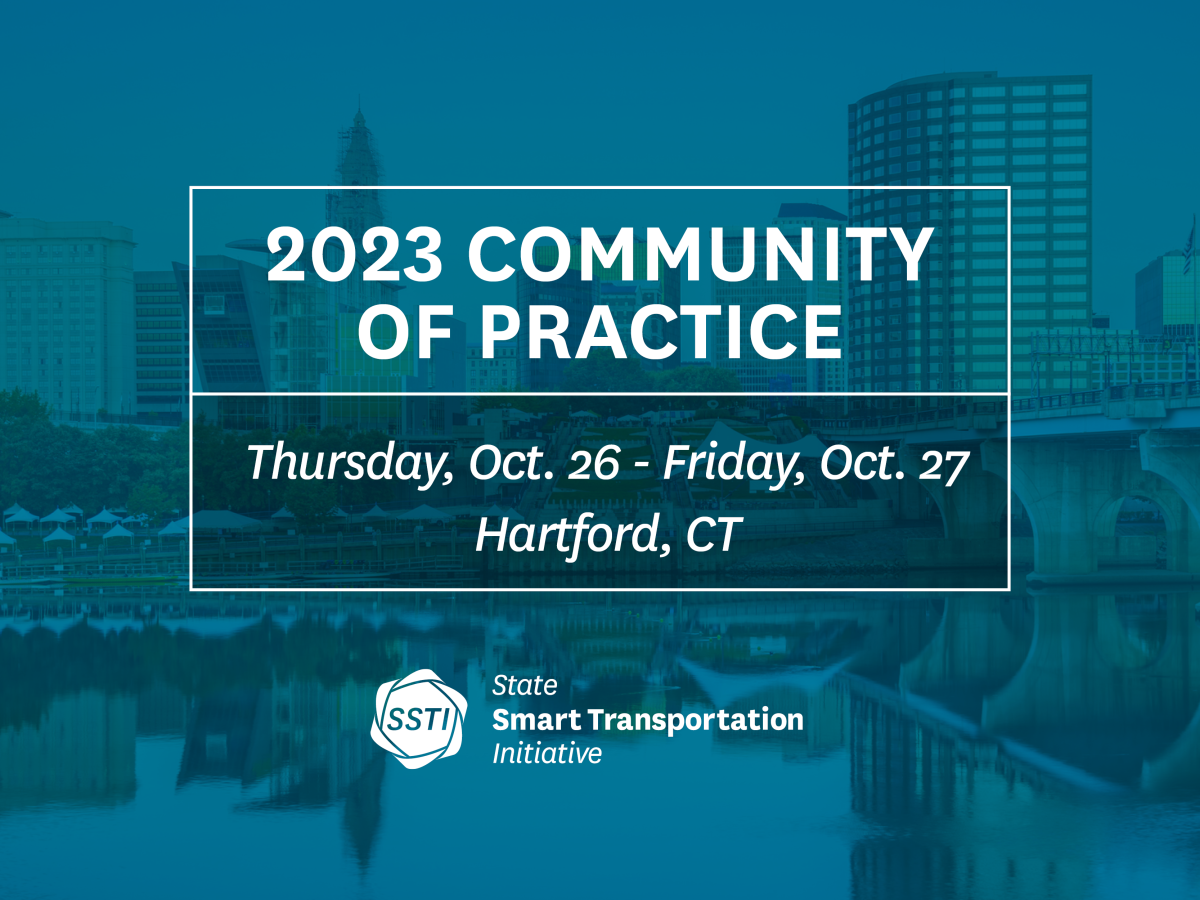 October 26-27, 2023
Hartford, Connecticut
---
SSTI's Community of Practice offers a unique peer learning opportunity focused on conversations between DOT CEOs, SSTI staff, and invited experts. This format—combined with off-site tours, short topical presentations, and briefing materials—allows DOT leaders to not only be more informed on best practices, but to learn directly from those facing similar challenges and opportunities.
We are so excited to host SSTI's Community of Practice here in Hartford. In addition to this unique opportunity to connect with peers, we look forward to sharing our work up close through tours and excursions highlighting one of the nation's premier BRT systems, a quick-build project from the Complete Streets Academy, and our ongoing efforts to reconnect Hartford across I-84. We hope to see you in the fall!
– Garrett Eucalitto, CTDOT Commissioner
For questions or feedback: Contact our managing director, Chris McCahill.
For travel arrangements: Contact Lindsey Hess.
Agenda
Thursday, October 26
---
9:00 – 12:30pm           Field Visit
Attendees will take a group ride on CTfastrak, one of the nation's premier bus rapid transit systems, stopping at various stations to learn more about station amenities and nearby transit-oriented development. The tour continues by bus to Bristol, an extension of the CTfastrak, to visit the quick-build project that is part of the Complete Streets Academy.
12:30 – 2:00pm           Lunch 
Attendees will be on their own for lunch, with an exclusive advisory committee lunch.
2:00 – 2:15pm              Welcome and Introductions
2:15 – 3:45pm              Discussion 1:  Flexibility and Innovation
State agencies are working to become more adaptable in meeting local community needs. Whether it is a Complete Street, a quick-build, or new transit infrastructure, these projects must often overcome challenges in meeting design criteria, permitting, and other standard procedures. Participants will discuss ways their agencies are becoming nimbler.
3:45 – 4:00pm               Break
4:00 – 5:30pm               Discussion 2:  Building and Maintaining and Diverse Workforce
The need for a strong and diverse workforce among state DOTs is more glaring than ever. From human resources to professional development and outreach, participants will discuss ways their agencies are recruiting and retaining some of the best employees in the industry.
5:30 – 6:00pm              Break and Transition
6:00 – 7:00pm              Reception
7:00 – 9:00pm              Dinner
Friday, October 27
---
7:30 – 8:30am               Breakfast
8:30 – 9:30am              Walking Tour
Participants will see areas that CTDOT hopes to revitalize through the Greater Hartford Mobility Program by taking a walking tour from the Goodwin Hotel. 
9:30 – 9:45am             Coffee break
9:45 – 11:00am           Discussion 3:  Reaching Common Ground
Whether a project runs through a dense urban area or a delicate natural environment, state agencies are often working to balance the needs of stakeholders in ways that are equitable and minimize their impacts. After a brief walking tour in downtown Hartford, participants will discuss the steps needed to reach a compromise on contentious projects.
11:00 – 12:00pm           Round Robin
What keeps you up at night? What gets you going in the morning?
12:00 – 1:00pm             Lunch
1:00 – 2:45pm              Discussion 4:  Electrification and Climate Resilience
Participants will discuss how they are responding to climate impacts. First, they will briefly discuss strategies for implementing the National Electric Vehicle Infrastructure (NEVI) program. Next, they will discuss how they are responding to recent natural disasters and preparing for an uncertain future.
3:00pm                          Adjourn